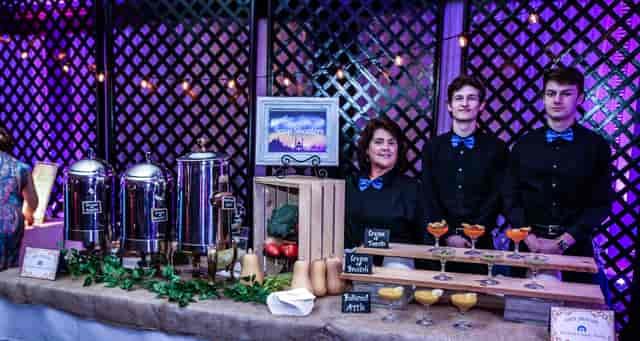 Meet Our Staff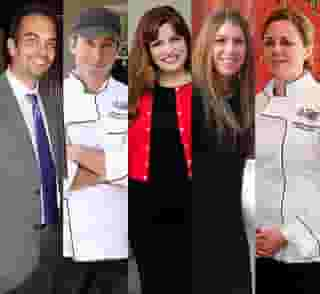 Meet Our Staff
Hospitality Professionals make for an unparalleled experience The Amber Room Colonnade's extraordinary associates share in our passion for delivering exceptional service. The personal attentiveness, care and professionalism of the guests we serve is valued by our trained wait staff, who take pride in making every event special, whether it's a formal wedding, grand gala, or a casual gathering of friends & family.

The service at The Amber Room is nothing less than impeccable. Our entire staff, from event planners to culinary team to wait staff, is dedicated to making your gathering flawless and "an experience to remember". It is they who make sure every decorative touch is perfect, every need is attended to, and every moment of your time at The Amber Room is just as you planned.
Douglas Polistena
General Manager

A graduate of Marist College, Douglas utilized his degrees in marketing and financial management and applied them to his hospitality career since 1997. He began his career on the restaurant side and then merged into full-service catering and banquet operations. He is well versed in different cultures and spent a six month period traveling Europe specifically embracing Italian culture & cuisine. While in Italy, he worked for a marketing firm promoting tourism and planned events that helped acclimate international tourists to the European lifestyle. Since joining the amber room in 2008, Douglas has personally worked with and executed over 1500 events, to include major galas, weddings, mitzvahs and corporate functions. In 2009, he became a client of the amber room colonnade and married his beautiful bride Stephanie with a reception of 350 friends and family. In 2013 Douglas was promoted from director of sales and operations to general manager. Douglas' main position at the amber room as general manager is to over see all operations , with primary responsibility of event planning, as well as company finance management.
Chris Hatzis
Executive Chef

Executive chef Chris Hatzis graduated from the University of New Hampshire with a degree in kinesiology. His career began at the early age of 13, continuously working in the restaurant industry where he soon realized his passion for the culinary arts. Upon graduating from UNH, Chris continued his strong desire toward food & beverage, realizing his future was to pursue a career in a professional kitchen. He attended the culinary institute of America, including postgraduate coursework, where he studied diverse topics including hors d' oeuvre production, artisan bread baking, soup, stock and sauce creation & production, Mediterranean cuisine, garde manager, cake, tart and torte production, and numerous culinary expertise. Chef Hatzis joined the amber room colonnade in January 1999 as a line cook, earning his promotion to Kitchen Manager/Director of Hors d' Oeuvres, and Pastry Chef, to Sous Chef and eventual promotion to Executive Chef in 2008. Chris and his loyal and talented culinary team take great pride in their commitment to food excellence, creating everything by hand, utilizing only the freshest, highest quality ingredients from reputable food purveyors, and personal homemade recipes. This commitment to excellence has established the amber room as one of New England's most prestigious catering venues, having hosted President Clinton twice, and the recipient of numerous culinary awards and accolades.

Chris' favorite time of the workweek: Saturday mornings when his daughter Mia is working by his side.
Alisha Turchick
Catering Sales Manager

Alisha comes to us with a restaurant and country club background. She has spent the majority of her 20 year career in the New York market and brings with her, experience and an in depth knowledge of customizing events to go beyond every client's dreams and expectations. Along with a hospitality background, Alicia also has a degree in interior decorating, which allows her to have a keen eye for detail. Since, joining the amber room team, as our catering sales manager, Alicia has put her personal touch on the amber room's decor and menus and has help create the culture that sets the amber room colonnade apart from the stereotypical banquet hall. We encourage you to call and schedule a tour to meet with Alicia so that she can give you the attention to detail that you deserve.
Gina Iarusso
Banquet Manager

Gina comes to us with a rich background in hospitality that spans over 15 years. She joined the amber room colonnade in 2008 and progressed to her current position as banquet manager in 2013. Gina graduated from grace institute with a degree in business management with an emphasis in hospitality. She manages the wait staff while ensuring that every aspect of your event is carried out with precision. Gina is a dedicated wife of 21 years and mother of three beautiful children. She is a huge asset to our team and continues to develop fresh approaches to enhance your special occasion.
Monica Banas
Pastry Chef

A graduate of Syracuse University, Monica pursued her passion for confectionary creation by graduating from the institute of culinary education's professional pastry program. Following her internship at gramercy tavern under the culinary excellence of chef Nancy Olsen, she returned to danbury, ct as cake designer for cake haven, while teaching children's baking and cooking classes at the young chef's academy in nearby brookfield. In September 2008, Monica joined the amber room colonnade culinary team as pastry chef, where she specializes in custom wedding and special occasion cakes, along with her homemade pastries, desserts, and ever-popular cheesecake lollipops!