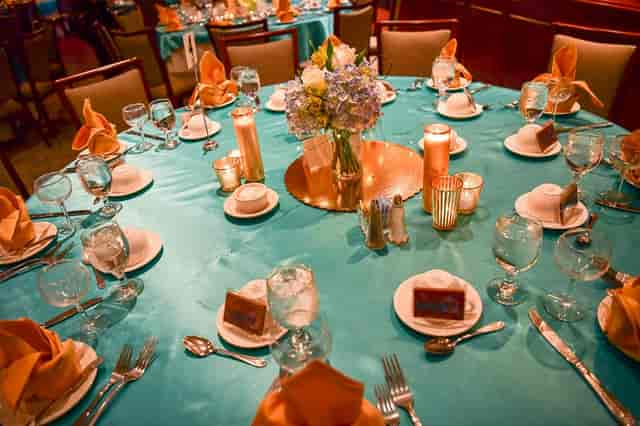 Testimonials
Testimonials
The Amber Room Colonnade is always pleased to hear from our satisfied clients. The following comments are from some of our clients whom were very happy with our venue and our event services.
Kristina & Lou
We started the day with Kristina and her girls as they were finishing up getting ready in the bridal suite at theThe Amber Room Colonnade in Danbury. Amidst champagne toasts and last minute make-up and hair touch-ups, they chatted away and reminisced. Once the time came for Kristina to put on her gown, she had plenty of help from her friends and family who made sure everything was just right.

The ceremony was originally supposed to take place outside on the grounds but a crazily strong wind storm meant a change of plans. It still took place outside, but with the protection of an awning, which meant nothing was blowing around and everyone could actually hear the exchange of vows instead of the howling of the wind. Right after the ceremony we took a few minutes with just Kristina and Lou, giving them the opportunity to take in the fact that they were now officially husband and wife.

They kicked off the reception with their first dance to a song by Kristina's favorite band, Dave Matthews. It was a particularly sweet moment with their friends and family gathered around the floor, holding one another and cheering Kristina and Lou on. After dinner the party really got into full gear - the dance floor opened and the photo booth was hopping. They had so many props for the booth that many times during the night you couldn't really tell which was which, boas on the dance floor, dance moves in the photo booth. It was definitely one fun party - exactly what Kristina and Lou had hoped it would be.
Ammrio
The Amber Room is awesome. The food and service has always been amazing. I've had business events there as well as my wedding and everything is always consistent. I would recommend it to everyone.
Lizhart2010
Doug, Luke and Gina made our wedding day PERFECT! I could not have asked for better service or food. Doug was very responsive to every phone call or email and understood all our needs. I would recommend The Amber Room to any bride looking for outstanding quality and service. It was a perfect night to remember.
Kelli
The Amber Room was so accommadating. The wedding package including a lot of food and services for a great price. The day of the wedding, everyone catered to our needs as well as all of our guests. The food was excellent! Everything went smoothly and we had an awesome wedding day!!
Joodlenoodle
A beautiful venue with excellent service and food. Staff is very nice, warm and welcoming!
Susan
We are very, very happy you came by to talk about your event location, space, venue opportunities and your appetizers. All of us were very impressed and you are definately on the map for future events/offiste meetings. Just as an FYI... Your food (all of it) was amazing...And we are all very impressed.
Theresa
The Amber Room staff was very flexible for a Friday night, winter wedding. I was able to rent the larger room and they were very accommodating on the pricing. The event in the second room canceled due to weather; therefore I obtained the extra staff's attention throughout the night at no additional cost. The night went off without a hitch and as the bride, I had one staff member who attended to my every food/ drink and any other need that I had.
Heather
My husband and I were married recently at the Amber Room (4/12) and cannot say enough rave reviews about our experience there. After visiting several different sites, we were immediately impressed with the Amber Room on so many levels. As we worked with the Amber Room to plan our wedding, we were happier and happier with our choice.

First of all were the gorgeous facilities. With a huge dance floor in a very large, beautifully appointed banquet hall, it was the perfect space for our reception. The outdoor gardens, and cocktail hour patio, were the perfect location for an outdoor ceremony. We were even lucky enough at the start of April that the flowers on the grounds had started blooming.

Second of all was the food, which we tried at a wedding expo held at the Amber Room. To say the food was delicious is an understatement. With everything made fresh and on-site, the food was AMAZING. The passed and stationary hor d'oeuvres were so wonderful that people were stuffed after the cocktail hour. They couldn't stop eating. Our station style dinner was fabulous, and people kept going back for seconds and thirds. I think the most telling comment from our guests was that the food was completely different from what they think of as "wedding food". The chefs and dessert chefs were terrific.

But most importantly of all were the people. Our first contact was with Doug, the operations manager. His calm manner and flexibility were immediate selling points for us. In our first meeting he said "We want to create the wedding that YOU want to have", and they followed through on that in every way. Through multiple meetings we designed the wedding of our dreams, at a price we could afford. Even last minute ideas and changes were worked in flawlessly, and Doug was so amazing to work with. Dimitri, our banquet manager running everything on the day our wedding was a miracle worker, doing everything from managing the timing of the whole day, to jumping in behind the bar to make sure people weren't waiting in line, to checking to make sure we had drinks and food. The entire service staff were incredibly attentive, including Suzanne, our personal wedding party attendant, who always made sure we had anything we needed.

We loved EVERYTHING about our wedding, and the Amber Room, and we wouldn't have changed a thing. In short, it is the look and feel of the Amber Room that will pull you in, but it is the amazing people you work with there that will make you hope for another event so that you can go back again!
Valerie
I had my wedding at the Amber Room in 2007 and everything was perfect from start to finish. The food was incredible and the staff was so helpful. I would recommend the Amber Room to anyone! Beautiful grounds outside too!!
Pinkgrlie21
Doug was amazing to work with. I would recommend the Amber Room to anyone. Beautiful photo opportunities, great food, good time! Had some complaints about bar service on the otherhand.
Issac R
Thank you Amber Room!! Thank you Gina, Doug, Alisha and the entire staff!! My daughter and her husband were married there on November 9th. We are all so glad we chose your lovely venue. First of all I am fully aware and grateful for the generosity you all showed in allowing the newlyweds to have the wedding in the manner that they did. I know it is not typical and we truly appreciate your thoughtfulness. I really REALLY appreciate how easy you all made process. Doug and Alisha were great and welcoming at the initial meetings. They were very available and were timely with any followup. True professionals. I fully expected it to be lovely and I was still surprised at how wonderfully the room was set up. From the table set up to the cleanliness to the amenities to the lighting to the spaciousness.. All A+. You all took so much pressure and angst off the newlyweds right off the bat and there isn't really a pricetag for that. We had some guests that showed up and were not on the list and their seating was handled immediately and seamlessly. Thank you all so very much. All of our guests absolutely loved the Amber Room. Your venue and team were definitely the right choice. I thank you all for making this such a great experience.
Antoina F
We had the most amazing reception at the Amber Room. They worked with us for months to make our wedding everything we wanted it to be. The actual day was spectacular from the hall to the food to all the little touches we asked for. We had a large wedding (240 guests) and everyone raved about how much fun they had, how the food was amazing and how quickly such a large group of people were served. If we could give 10 stars we would. On the day everyone from the event manager to our bridal attendant was so amazing, they constantly made sure we both had everything we needed and even came to ensure we had a chance to eat our meals when we were snagged by family members wishing us well and taking pictures. Definetly have your wedding here.
Michael S
We recently got married at The Amber Room in October, and our experience was nothing short of amazing!! The staff was great to work with, and were very accommodating to all of our ideas. With everything available through the venue, it really made planning so much easier, and allowed us to "not break the bank" going to various locations in order to piece everything together. A++ and would highly recommend them for your wedding/next event!!!
Kristin D
My husband and I just got married on the 12th, and we have the opportunity to see what our roomed looked like before the rest of the guest, and we were in awe on how beautiful our room looked! The staff was so helpful and kind, and Alisha was so wonderful to work with! It was an amazing experience!
Valerie S.
We recently held our daughters' b'not mitzvah reception at the Amber Room. Wow! What an amazing event! The food achieved the trifecta of being delicious, beautifully displayed, and plentiful. The ballroom and the gardens were stunning and made a gorgeous background for our photos. The service was unparalleled. They take care of every tiny detail. On top of all of that, they are a pleasure to work with. I strongly recommend the Amber Room and would work with them again.