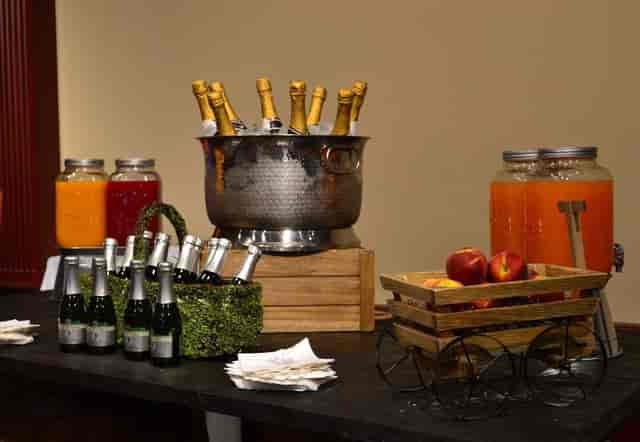 Frequently Asked Questions
Frequently Asked Questions
Here is a list of the most commonly asked questions we receive here at the Amber Room Colonnade.
If you do not find an answer to your question here, please feel free to use our contact page to ask your question.
Do You Offer A Food Tasting?
Because we are not a restaurant and prepare food on an event basis only, tastings are offered on a limited basis and a nominal fee of $30.00 plus tax per person applies.
Can We Bring In Any Food Or Liquor From An Outside Source?
The Amber Room Colonnade does not allow any significant food or any liquor to be brought in from an outside source. Minor exceptions are extended toward specific food items; please inquire further with your Sales Manager for additional details.
Is There More Than One Event Taking Place At The Same Time?
It is possible for The Amber Room to accommodate two events simultaneously, however, we off-set the start time of each event by a minimum of 30 minutes. In addition, each ballroom provides for its own privacy with separate reception area, restrooms, bridal suite, and soundproof air wall divider between ballroom sections.
What Happens Should My Guest Count Either Increase Or Decrease The Day Of My Event?
An estimated guest count is due 10 days prior, with your Final Guarantee to include specific entree selection counts due 5 business days prior to your wedding. The Final Guarantee establishes your billing minimum, which is not subject to reduction. Increases to your count after your Final Guarantee is given will be accommodated based on ballroom space availability and billed accordingly.
When Is My Final Guarantee Due, To Include Specific Entree Counts?
An estimated guest count is due 10 days prior, with your Final Guarantee to include specific entree selection counts due 5 business days prior to your wedding date.
What Items Are Included In A Standard Table Set-up?
Table set-up includes a selection of 14 linen colors including traditional white or ivory, glass hurricane with mirror base and 12" tapered candle, 3 complementing votive candles, Villeroy and Boch Cortina China, dinner flatware and glassware. Additional table and decor enhancements are available; please inquire with your Amber Room sales manager.
Am I Required To Use Your Preferred Vendors?
We highly recommend our reputable and experienced preferred vendors; however, we do not require use of their services.
Who Will Be My Contact The Day Of My Event?
At your Final Meeting scheduled one week prior to event, you will be introduced to your assigned Banquet Manager who will be your contact throughout your event.
How Many Guests Are Seated At A Table?
Seating is based on accommodating a minimum of 8 up to 10 guests per table.
Will The Executive Chef Accommodate Food Allergies And Dietary Restrictions?
We are committed to service excellence; therefore, we provide a professionally-trained Server for every 20 guests. In addition, we provide 1 bartender per 100 guests and a dedicated Maitre D'.
Do You Provide Place Cards, Direction Cards And Floor Plans?
We can provide these items on a complimentary basis as requested.
How Soon Can My Vendors Set-up For My Event?
Vendors are welcome to set-up up to 1 hour prior to the start of your event, dependent upon our day of event schedule.
What Is The Maximum Seating For The Two Ballroom Sections?
The East Ballroom can accommodate up to 220 guests, and the West Ballroom up to 300 guests. The combined seating is 650. Maximum seating includes open dance floor and head table seating.
What Is The Plan Should Inclement Weather Affect Outdoor Events?
In the event of inclement weather, the Amber Room Colonnade must look out for the safety and enjoyment of you and your guests. Therefore, a decision will be made in advance to accommodate your scheduled outdoor ceremony or reception to a covered outdoor and/or indoor space.
How Large Is Your Dance Floor?
The Amber Room features one of Connecticut's most expansive dance floors totaling 1,250 sq ft (West) and 910 sq ft (East), for a combined 2,160 sq ft.
For more information, please refer to our Floor Plan.
What Is Included In My Wedding Cake?
Our Pastry Chef will create your personal tiered Buttercream Wedding Cake with a choice of assorted cake flavors, fillings and frosting.
If We Are Hosting Our Ceremony On-site , What Time Can We Arrive?
Early arrival time is limited to you, your bridal party and parents up to 1 hour for daytime weddings, and up to 45 minutes prior to for evening weddings. Please note that at this time, food and beverage is not available prior to your reception. These times are subject to change based on the event schedule.
Is A Ceremony Rehearsal Possible?
Yes, included in your on-site ceremony fee, a 30-minute rehearsal is available for you and the bridal party, to be coordinated with your assigned Banquet Manager.
What Does The Amber Room Offer To Personalize My Wedding?
The Amber Room Colonnade prides ourselves on not "fitting things into a box" to design and execute weddings that are unique in their own way. We enjoy learning about each bridal couple's personalities, hobbies and interests, family traditions, and at their request incorporate these considerations to make it a truly personalized reception of their own. Utilizing the combined professional experience of our event team, we are able to customize important items such as menu selections, wedding decor, entertainment, and up lighting of a laser-cut stencil of the bridal couple's name & date providing for a personalized and dramatic entrance. In addition, the Amber Room provides an idyllic setting offering 26 meticulously-landscaped acres, featuring expansive lawn with annuals and perennials, European fountains, courtyards and bridges. This provides for a serene ambience and a beautiful setting for photographs.
What Additional Services Does The Amber Room Colonnade Provide?
The Amber Room offers 100% accessibility and parking, as all event areas are located on the ground level. We are also able to assist in arranging additional services to include, but not limited to, hotel accommodations, limousine & buses, and theme concept & event design and decor.
What Is Your Privacy Policy?
We understand that privacy online is important to users of our Site, especially when conducting business. This statement governs our privacy policies with respect to those users of the Site ("Visitors") who visit without transacting business and Visitors who register to transact business on the Site and make use of the various services offered by The Amber Room Colonnade (collectively, "Services") ("Authorized Customers").

"Personally Identifiable Information"
refers to any information that identifies or can be used to identify, contact, or locate the person to whom such information pertains, including, but not limited to, name, address, phone number, fax number, email address, financial profiles, social security number, and credit card information. Personally Identifiable Information does not include information that is collected anonymously (that is, without identification of the individual user) or demographic information not connected to an identified individual.

What Personally Identifiable Information is collected?
We collect basic user profile information from Visitors that use our contact form. We collect the following additional information from our Authorized Customers: the names, addresses, phone numbers and email addresses of Authorized Customers, the nature and size of the business, and the nature and size of the advertising inventory that the Authorized Customer intends to purchase or sell.

With whom may the information may be shared?
We may share aggregated information about our Visitors, including the demographics of our Visitors and Authorized Customers, with our affiliated agencies and third party vendors.

How is Personally Identifiable Information stored?
Personally Identifiable Information collected by The Amber Room Colonnade is securely stored and is not accessible to third parties or employees of The Amber Room Colonnade except for use as indicated above.

What partners or service providers have access to Personally Identifiable Information from Visitors and/or Authorized Customers on the Site?
The Amber Room Colonnade has entered into and will continue to enter into partnerships and other affiliations with a number of vendors. Such vendors may have access to certain Personally Identifiable Information on a need to know basis for evaluating Authorized Customers for service eligibility.
Our privacy policy does not cover their collection or use of this information.
Disclosure of Personally Identifiable Information to comply with law. We will disclose Personally Identifiable Information in order to comply with a court order or subpoena or a request from a law enforcement agency to release information. We will also disclose Personally Identifiable Information when reasonably necessary to protect the safety of our Visitors and Authorized Customers.

How does the Site keep Personally Identifiable Information secure?
All of our employees are familiar with our security policy and practices. The Personally Identifiable Information of our Visitors and Authorized Customers is only accessible to a limited number of qualified employees who are given a password in order to gain access to the information. We audit our security systems and processes on a regular basis. While we take commercially reasonable measures to maintain a secure site, electronic communications and databases are subject to errors, tampering and break-ins, and we cannot guarantee or warrant that such events will not take place and we will not be liable to Visitors or Authorized Customers for any such occurrences.

How can Visitors correct any inaccuracies in Personally Identifiable Information?
Visitors and Authorized Customers may contact us to update Personally Identifiable Information about them or to correct any inaccuracies by emailing us at info@theamberroom.net

What happens if the Privacy Policy Changes?
We will let our Visitors and Authorized Customers know about changes to our privacy policy by posting such changes on the Site. However, if we are changing our privacy policy in a manner that might cause disclosure of Personally Identifiable Information that a Visitor or Authorized Customer has previously requested not be disclosed, we will contact such Visitor or Authorized Customer to allow such Visitor or Authorized Customer to prevent such disclosure.

Links:
www.theamberroom.net contains links to other web sites. Please note that when you click on one of these links, you are moving to another web site. We encourage you to read the privacy statements of these linked sites as their privacy policies may differ from ours.